Share
Regular price
Sale price
£18.99
Unit price
per
Sale
Sold out
Wetsuit Repair Kit & Wetsuit Shampoo For Use On All Wetsuits, Drysuits, Swim Suits, Neoprene Kit, Yulex, Lycra Boots, Gloves, Rash Vests & Hoods
10x30cm Cut To Size, Easy Iron-On Permanent Repair Patch, No Glue Needed – Will Mend Small To Large Rips, Tears & Damage Unlike Neoprene Glues
Non-Toxic & Safe Alternative To Traditional Toxic Neoprene Glues & Patches That Cause Skin Irritation & Un-Safe To Aquatic Life
250ml Eco Wetsuit Cleaner & Deodoriser - Increase The Lifespan Of Your Wetsuit & Kit - Helping To Retain Flexibility, Stop Cracking & Tearing
Removes Bad Odours & Prevents The Break Down Of Glued Seams, Salt Build Up & Erosion In Zips & Seam Tapes
View full details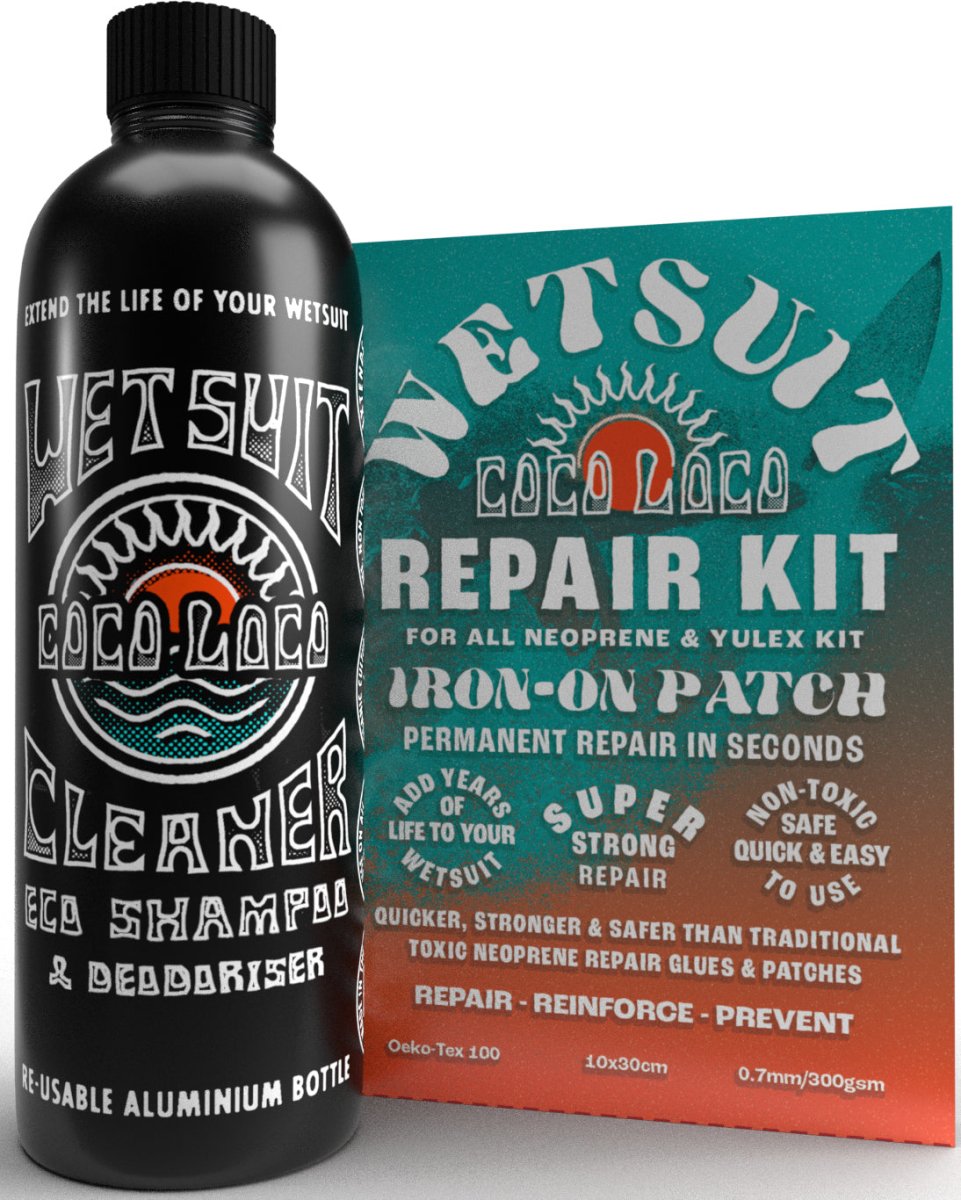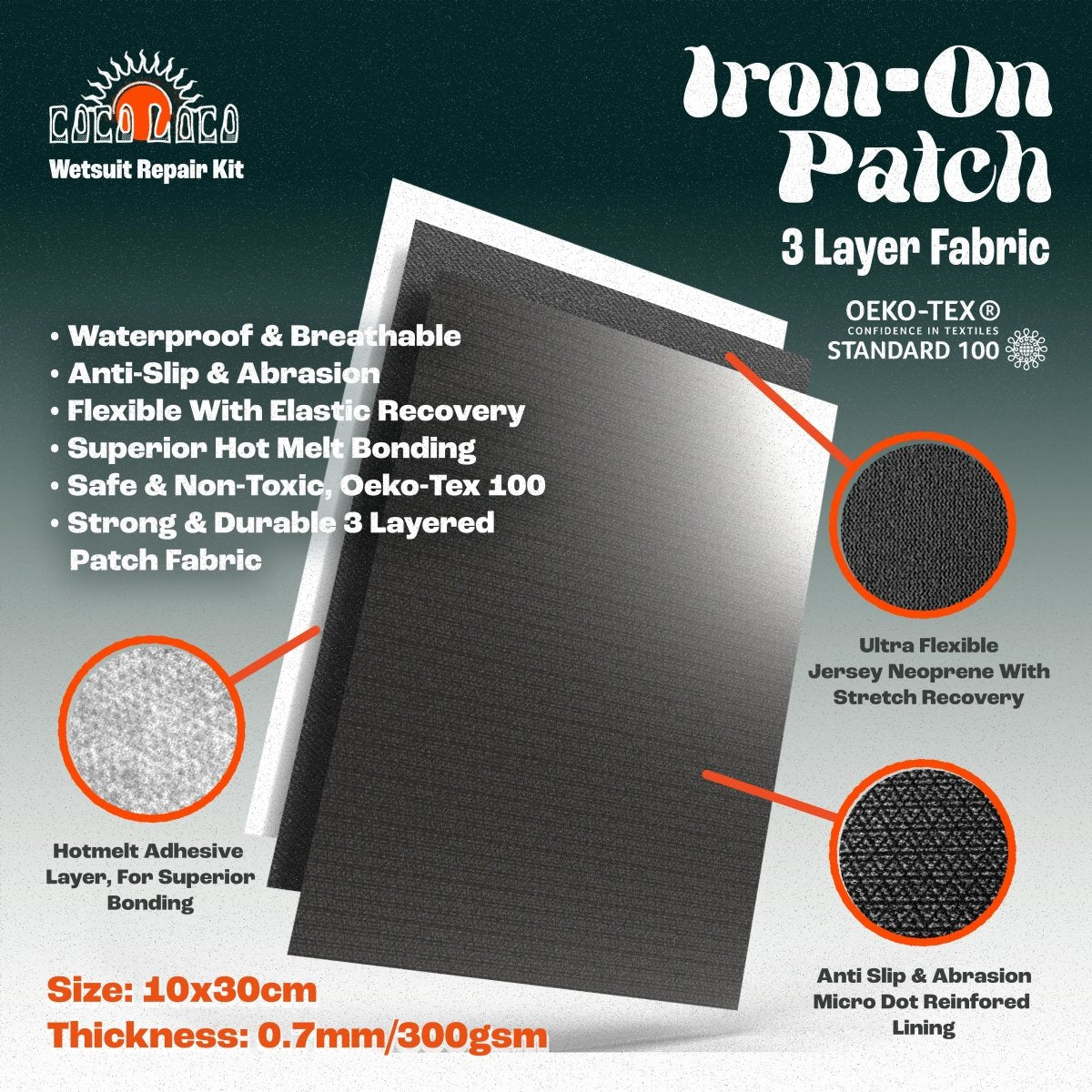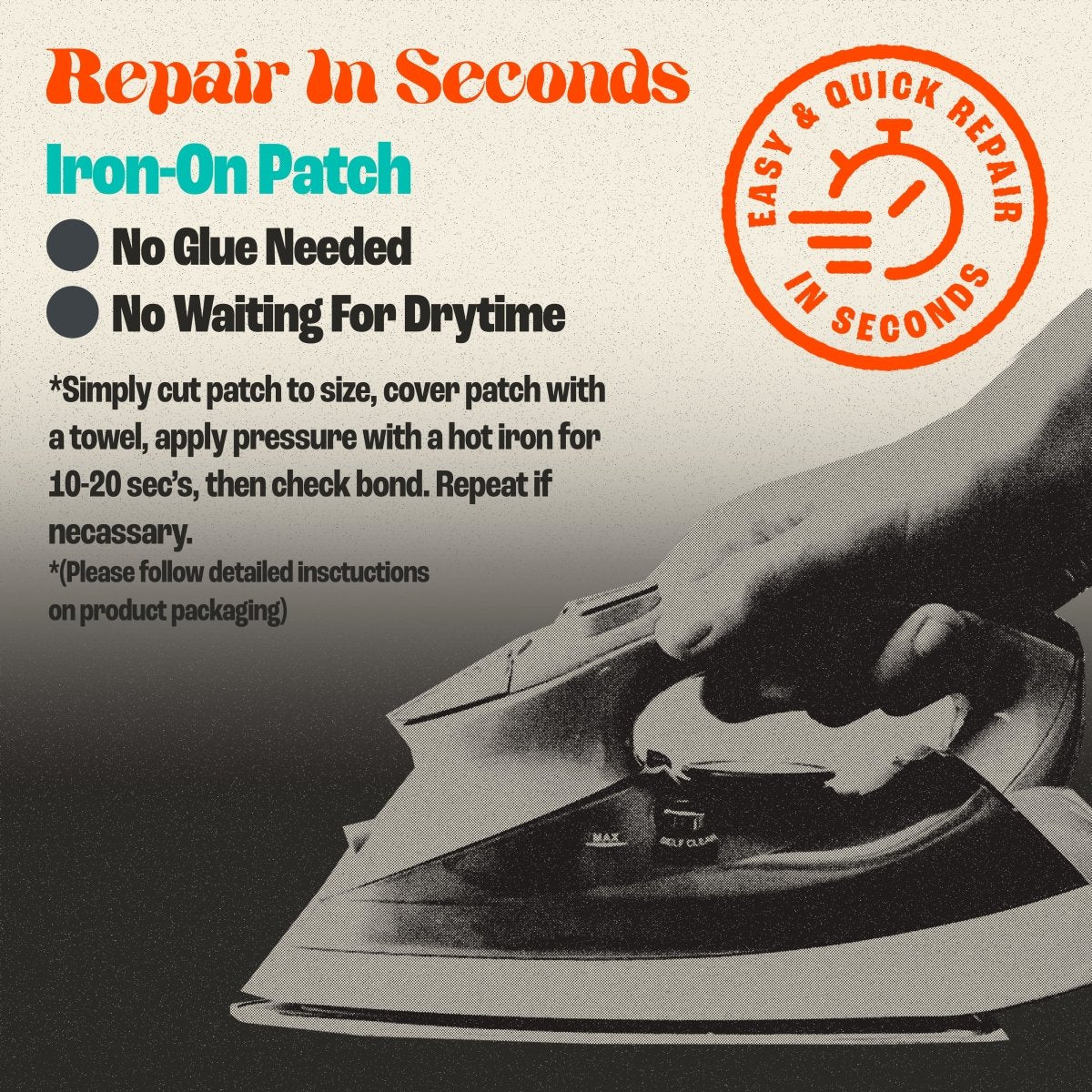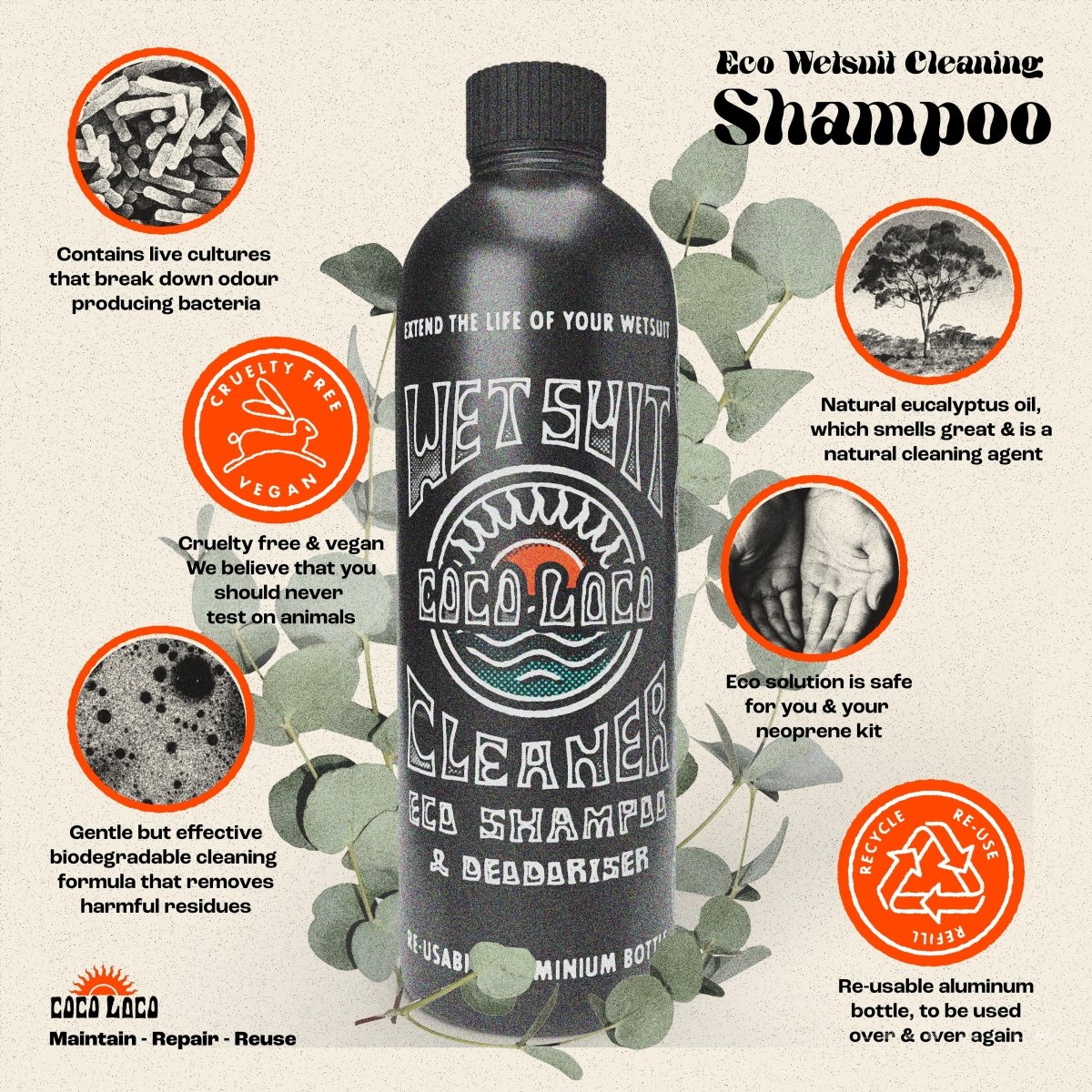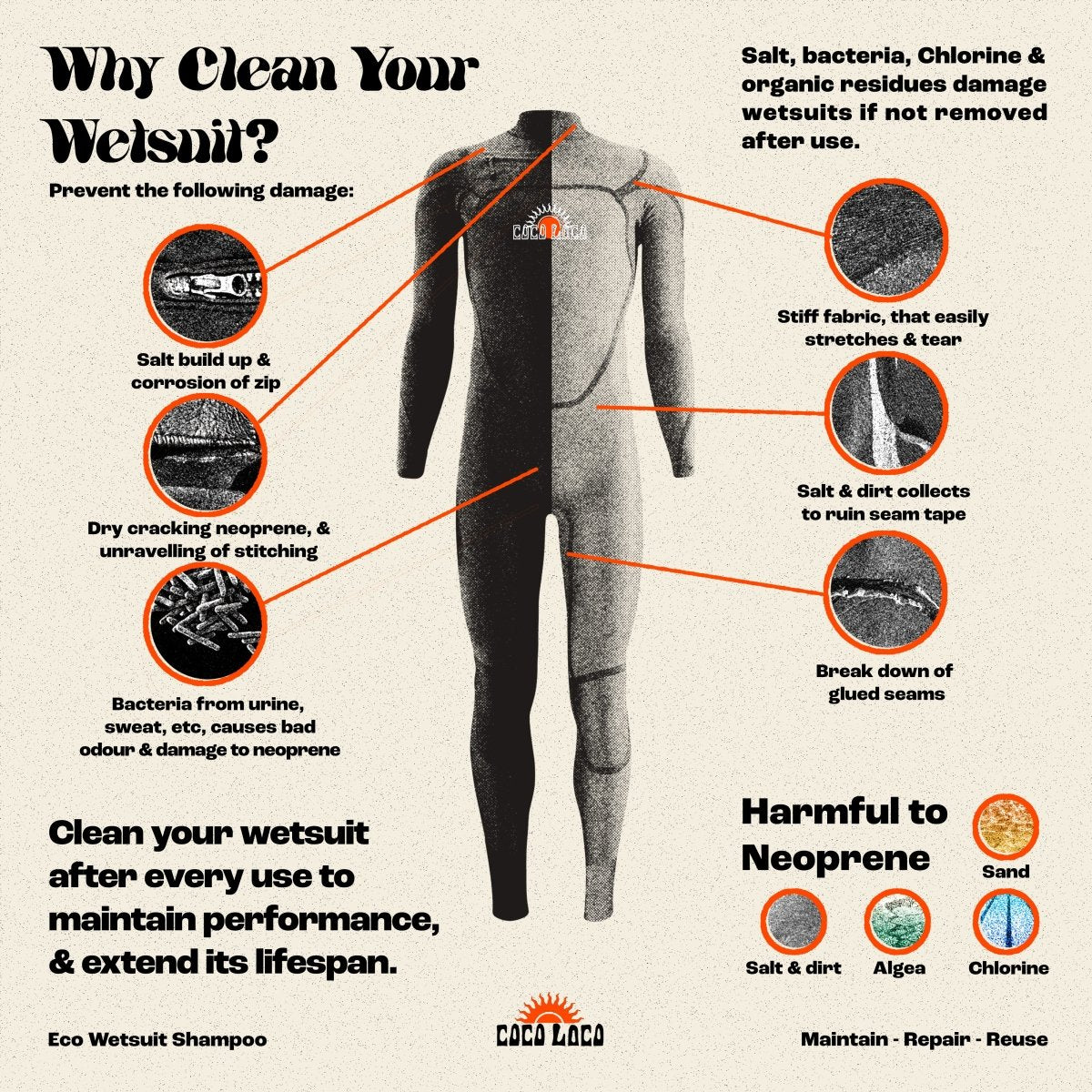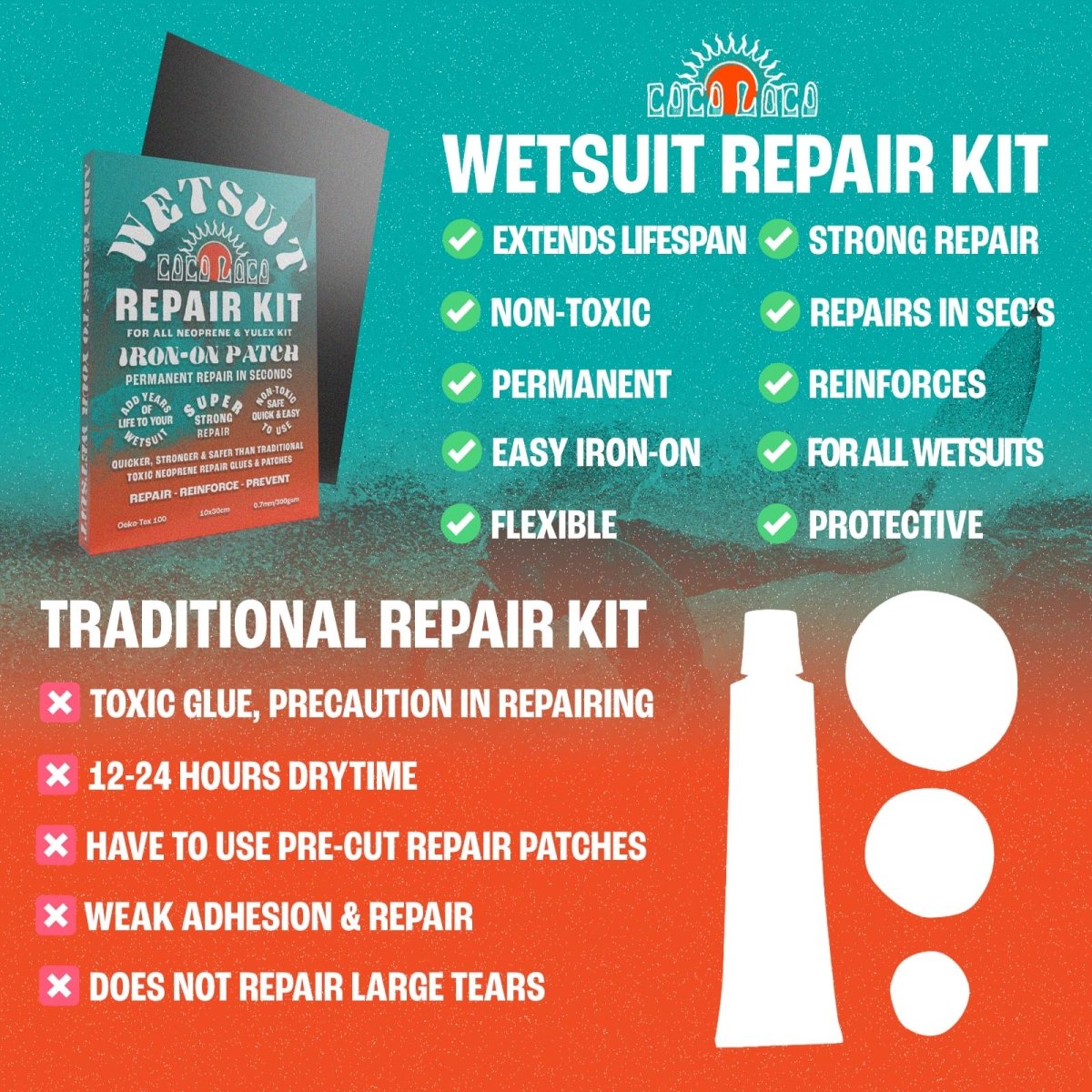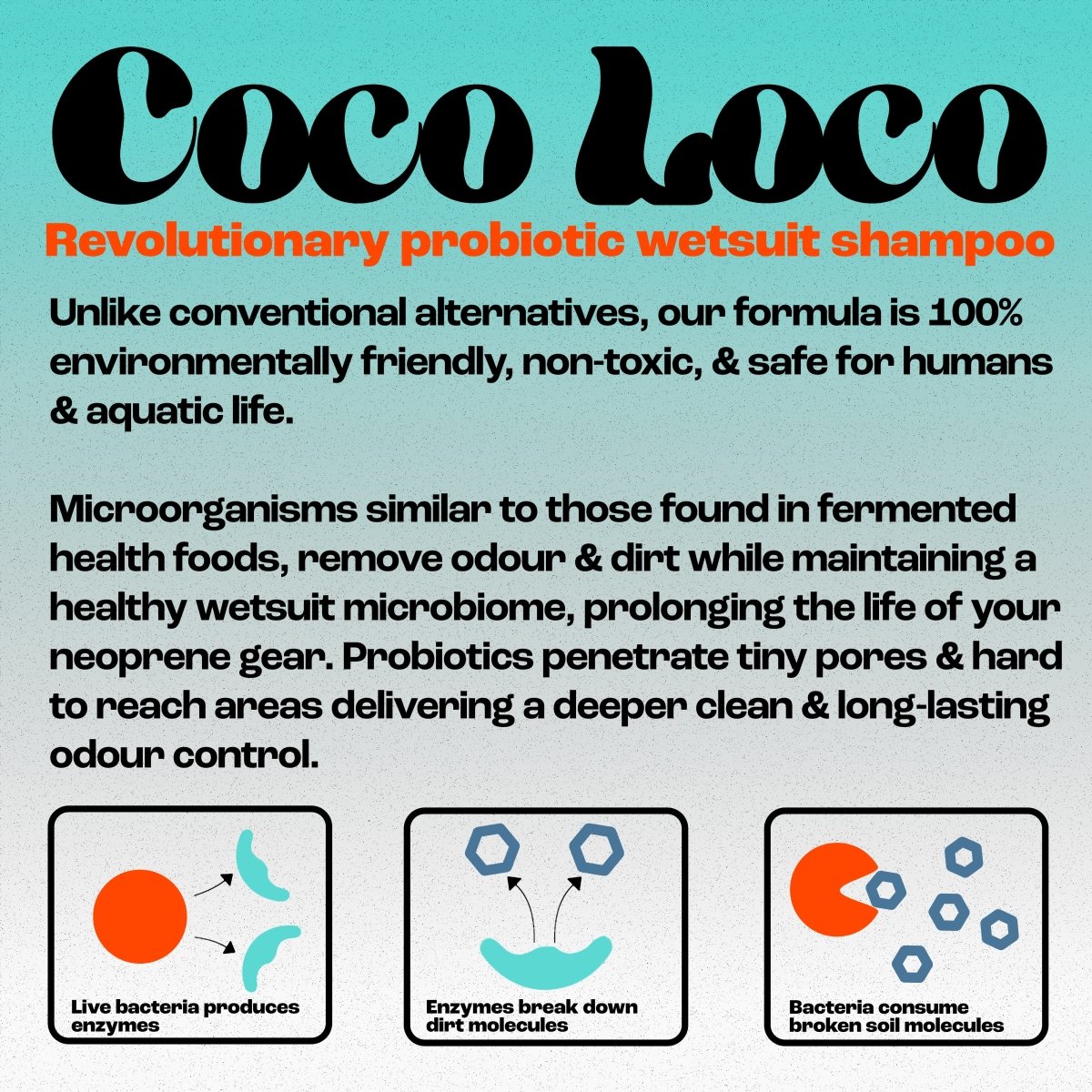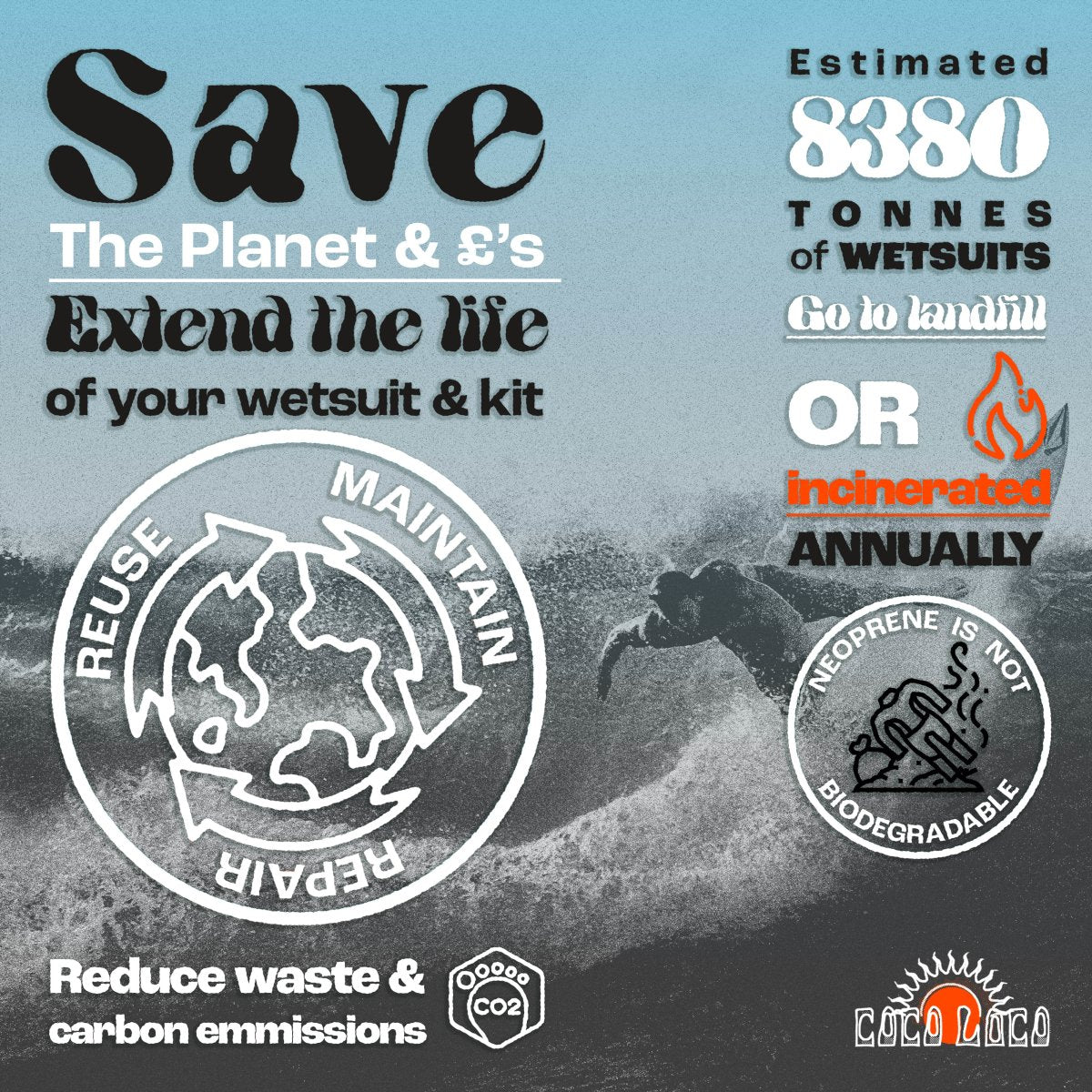 Permanent Repair In Seconds
Description

Coco Loco wetsuit repair kit is an easy way to repair & reinforce all wetsuits & neoprene kit in seconds. Fix small to large rips, tears, holes, reinforce stretched & worn areas on anything made of neoprene, yulex or lycra with ease. This multi-purpose patch can be applied to a variety of items such as waders, booties, gloves, swimsuits, tri kit & pretty much anything that the fabric will adhere to. 

Unlike traditional wetsuit repair kits, there is no need for toxic neoprene glues, pre-cut patches or 12-24hr wait times for drying. Simply cut our patch to size & apply heat for a hot melt adhesion, to achieve a strong permanent repair that is ready to use straight away after cooling. Meaning less waiting time, so you can get back in the water sooner! 

The Iron-on patch contains 3 layers for a strong, flexible & permanent repair, with a micro dot anti slip & abrasion lining for extra protection. Use the fabric to replace seams, protect from abrasion, reinforce shoulders, knees and other high movement areas as the ultra-flexible patch has stretch recovery enabling the best performance from your kit. 

Use Coco Loco wetsuit repair kit to extend the life of your kit, maintain its performance, save £100's of pounds & prevent more neoprene waste going to landfill. 

Keep your kit in the game for longer. 
Details

10x30 cm Iron-On Repair Patch Fabric.

In Cardboard Plastic Free Box.

0.7mm/300gsm Thick.

Jersey neoprene, with a white adhesive layer & anti-abrasion micro dot lining.
Instructions

Add years to the life of your wetsuit & kit. Repair, reinforce & protect your neoprene kit in seconds. 

For use on all types of neoprene & yulex wetsuits, gloves, boots, hoods, vests & all other neoprene accessories. It can also be used to mend swimsuits, board shorts, waders & a whole lot more. 

Tools needed:  

Tea towel / Cloth / Greaseproof Paper for a protective cover.

 

Caution: 

Iron should not come in direct contact with neoprene surface.  

We recommend testing heat, dwell time & pressure with a small patch of the repair fabric first on a non-critical part of the garment for the best adhesion results. 

Instructions: 

Wash your neoprene kit with Coco Loco Wetsuit Shampoo to remove any harmful residues, then dry-out kit completely.

 

Pre-heat iron at medium to high temperature.

 

Cut repair patch to overlap damaged area by at least 20mm on all sides*

 

Place damaged garment on a flat, firm surface ensuring area of repair can be pressed flat.

 

Place the repair patch over the damaged area with the white side down.

 

Cover the patch carefully with a tea towel / cloth / greaseproof paper.

 

Using the iron, press firmly through the cover onto the patch with even pressure for 10 seconds. Lift then apply for a further 10 seconds using circular motions over all areas of the patch. For best adhesion the patch has to be hot enough on all areas for the white glue backing to weld.

 

Leave for a few minutes to cool, then test for secure adhesion. A second heat application with more pressure & dwell time may be required.

 

*For large rips/tears/holes/gouges: Repair with using a patch on the inside & outside of the neoprene kit.